Attractions at Devon Cliffs, Sandy Bay
Indoor and Outdoor Facilities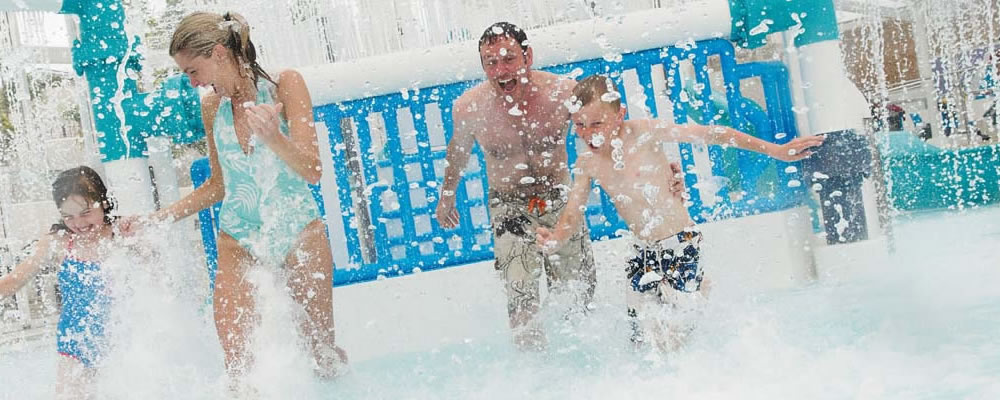 Devon Cliffs offer a fantastic range of indoor and outdoor sports facilities that are offer guaranteed fun for the whole family.
Splashzone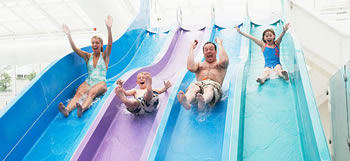 Indoor Pool
Large Heated Indoor Pool Complex with Flume and Water Play Area. Multi-lane water ride with four lanes - race down nineteen metres of slide! Recently, £1 million has been spent on developing the indoor pool area to make your stay even more enjoyable.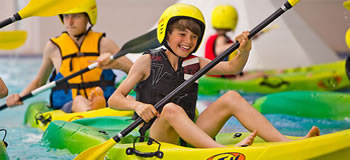 Outdoor Pool
Heated Outdoor Multi-Level Pool and Patio Complex with Multi-Lane Waterslide. Poolside Millies Cookies - ideal for relaxing with a drink and watching the rest of the family playing or coming down the slide. Full changing room and shower facilities.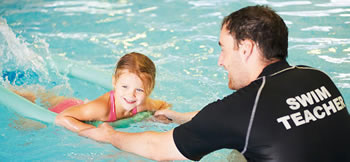 Learn2Swim*
A professional programme approved by the Swimming Teachers Association (STA) that aims to get children (or adults) swimming. There are 5 levels of achievement, with certificates awarded accordingly on completion.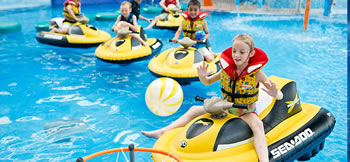 Aqua Gliders*
Looks like a jet-ski, behaves like a bumper car - these mini-motorised inflatables enable you to scoot around the pool. You can play it cool, or go on the attack, making sure your friends and family are in for a bumpy ride.
*Suitable for 5-8yrs wearing a life vest, and suitable for 8yrs+ who can swim 25m unaided.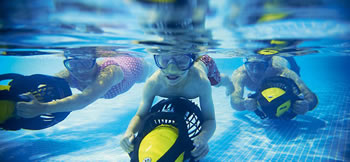 AquaJets*
These funky, fun-sized powered submersibles pull you through or under the water, with a fish-like ability to turn, twist or dive, leaving you breathless with excitement.
*Participants must be able to swim 25m unaided and be 8yrs+.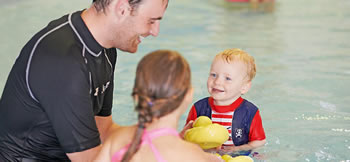 Water Tots
Water Tots is gentle water play, helping pre-school children gain confidence and improve their ability in the water.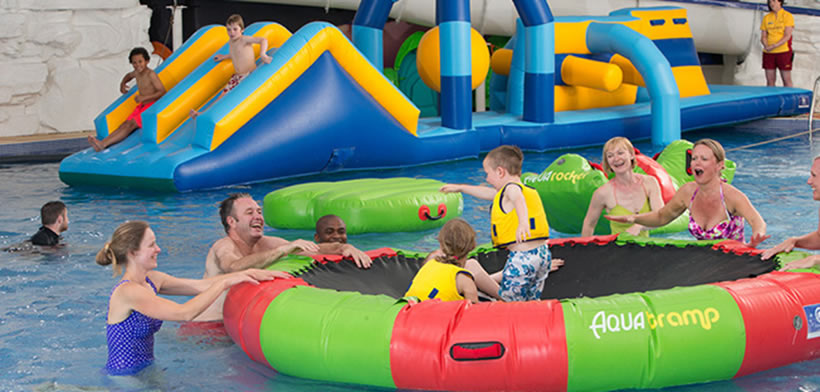 Pool Party
Kids really look forward to the moment when the giant fun inflatable appears and then the noise and action really steps up! It's great fun splashing around, slipping, sliding and toppling off of the big floating climbing frames that are placed in the middle of the pools.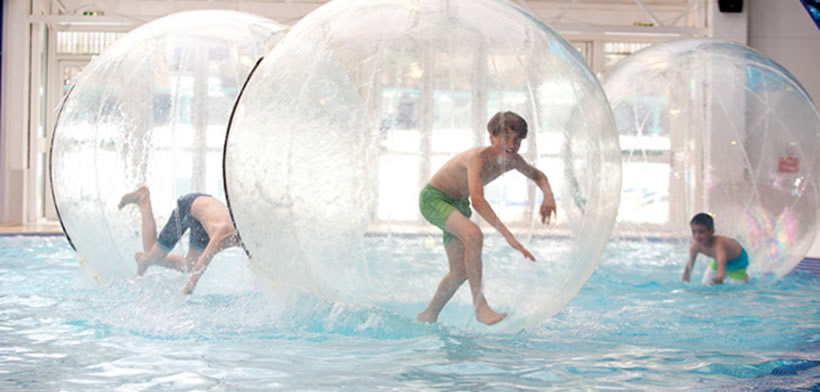 Water Walkerz*
Who needs to swim when you can walk on water? Come and get zipped up inside one of the fun-looking, giant, watertight hamster balls and discover how it feels to roll, spin and tumble across the surface of the pool.
Turbo Paddlers
Your kids can really let off some steam as they frantically turn the handles that spin the double paddle wheels of these colourful little boats. Watch them racing gleefully across the water or get in and help push them around.
Sports facilities
Whether you're bringing little kids, bigger kids, teens or adults with you, Devon Cliffs offers some fantastic sports facilities and activities:
All-weather multi-sports court
Climbing wall with abseiling
Leap of Faith
Aerial Adventure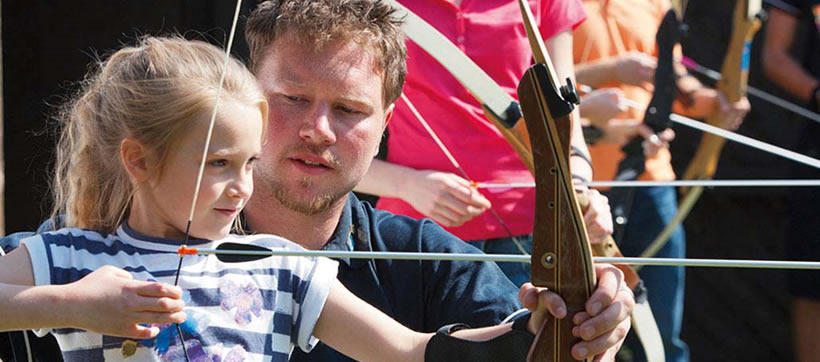 Coaching sessions
There is a wide range of coaching on offer for your children giving them an opportunity to learn from the best. Coached activities include: Archery, Fencing and Football.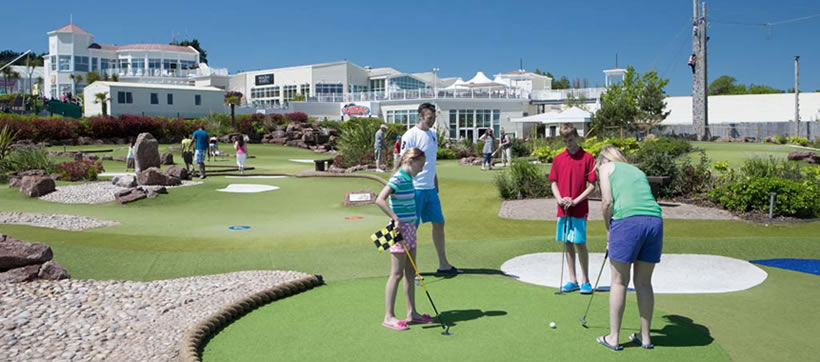 Adventure Golf
Try out your golfing skills on the Adventure Golf Course - with its landscaped surrounds and challenging fun holes, you're sure to have a fantastic fun time. Compete against your family and friends to see who's the best Mini Golfer.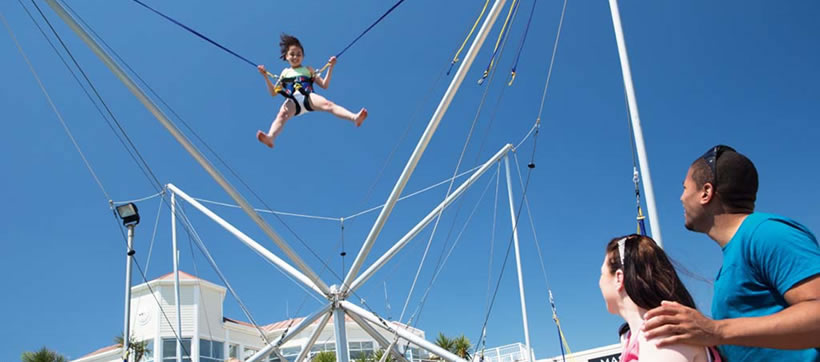 Bungee Trampolines
Bounce to new heights on our Bungee Trampolines. While being safely secured to bungee ropes, star jump and somersault your way to exhilarating fun.
* Subject to a moderate extra charge
Fun for all the family at Devon Cliffs
Get the family together for the Best of Fun! There's so much to do, you'll be spoilt for choice! From dawn to dusk, the Park offers an incredible range of activities so that come rain or shine, the only challenge you'll have is deciding what to do first!
Indoor Fun at Devon Cliffs...
FunWorks Amusements and Games
Pool Tables
Bowlingo
Outdoor Fun at Devon Cliffs...
Adventure Golf
All-Weather Multi Sports Court
Children's Adventure Playgrounds
Family Park Rangers
Bowlingo
Go for a strike and score as many points as you can with this family mini bowling game.
FunWorks Amusements
The FunWorks amusement arcade provides hours of non-stop family entertainment for all ages.
Park Facilities and Entertainment Programmes are controlled solely by the Park Owners therefore Newmans cannot be held responsible for any changes/alterations to Facilities or Sports and Entertainment Programmes.
24 years of Excellence through Experience